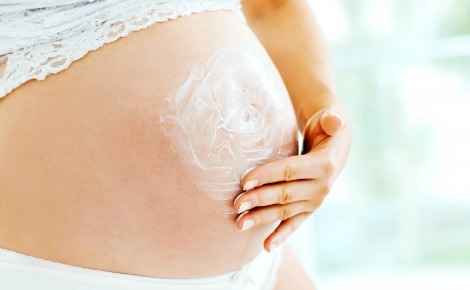 As your baby bump begins to expand to make room for your growing baby, it's important to take care of your skin. Preventative care is more effective than trying to reverse the damage post-partum, so dive into a hydrating, all-over body moisturizing routine as soon as you get the good news.
I recommend using a combination of moisturizers, butters and oils to keep skin well-hydrated day and night, focusing on oils at night before bedtime and intensive moisturizers during the day. Follow this guide to start taking care of your skin before the sign of the first stretch mark appears: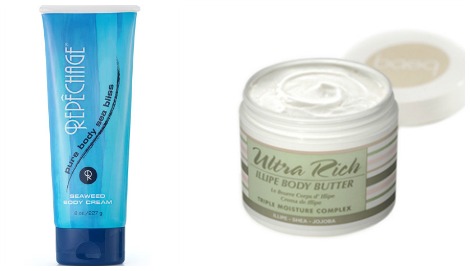 Daytime
Before your morning shower, apply olive oil or Lansinoh to protect your hyper-sensitive nipples -- I recommend using this on your nipples post-partum as well while breastfeeding to prevent cracks and soreness. After the shower, lather your skin with a rich body cream. During my pregnancy, I rubbed Repechage Seaweed Body Cream all over my body, then layered an extra coat of Basq Illipe Body Butter Triple Moisture Complex on my belly and breasts. Both of these moisturizers are very nourishing and have mild scents that are easily tolerated during pregnancy.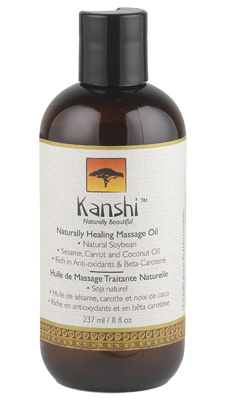 Nighttime
Stock up on a variety of oils so you can alternate them nightly, depending on which scents you can tolerate that day. I recommend Kanshi Naturally Healing Massage Oil. It's a soybean based oil with natural mango and papaya juice scents. It absorbs really nicely into the skin, and my husband just loved the way it made our bedroom smell! Before bed, I also recommend giving yourself a foot massage with a nourishing foot cream based on shea butter and peppermint oils.
What to look for
Always read product labels to ensure you're selecting safe, natural products for your pre-baby skin care routine. Many so-called mommy products are actually mineral oil based (one of the cheapest ingredients on the market)! Don't be fooled by the hefty price tag if the product lists mineral oil on top of the ingredients list. On the bright side, many mommy-to-be moisturizers are shea butter based. Shea is a great natural ingredient, and you can find many products on the market that contain shea butter, even if they're not necessarily marketed to pregnant women.
Bottom line
Use body butters and oils daily to prevent stretch marks during pregnancy. Always read labels before buying skin care products, and make choices based on the ingredients rather than product packaging. Just because it has mommy in the title doesn't necessarily make it better! Top ingredients to look for include shea butter, cocoa butter, lavender oil, tocopherol (vitamin E), coconut oil, soybean oil, carrot oil, seaweed, glycerin, aloe, rosehip oil and jojoba seed oil.